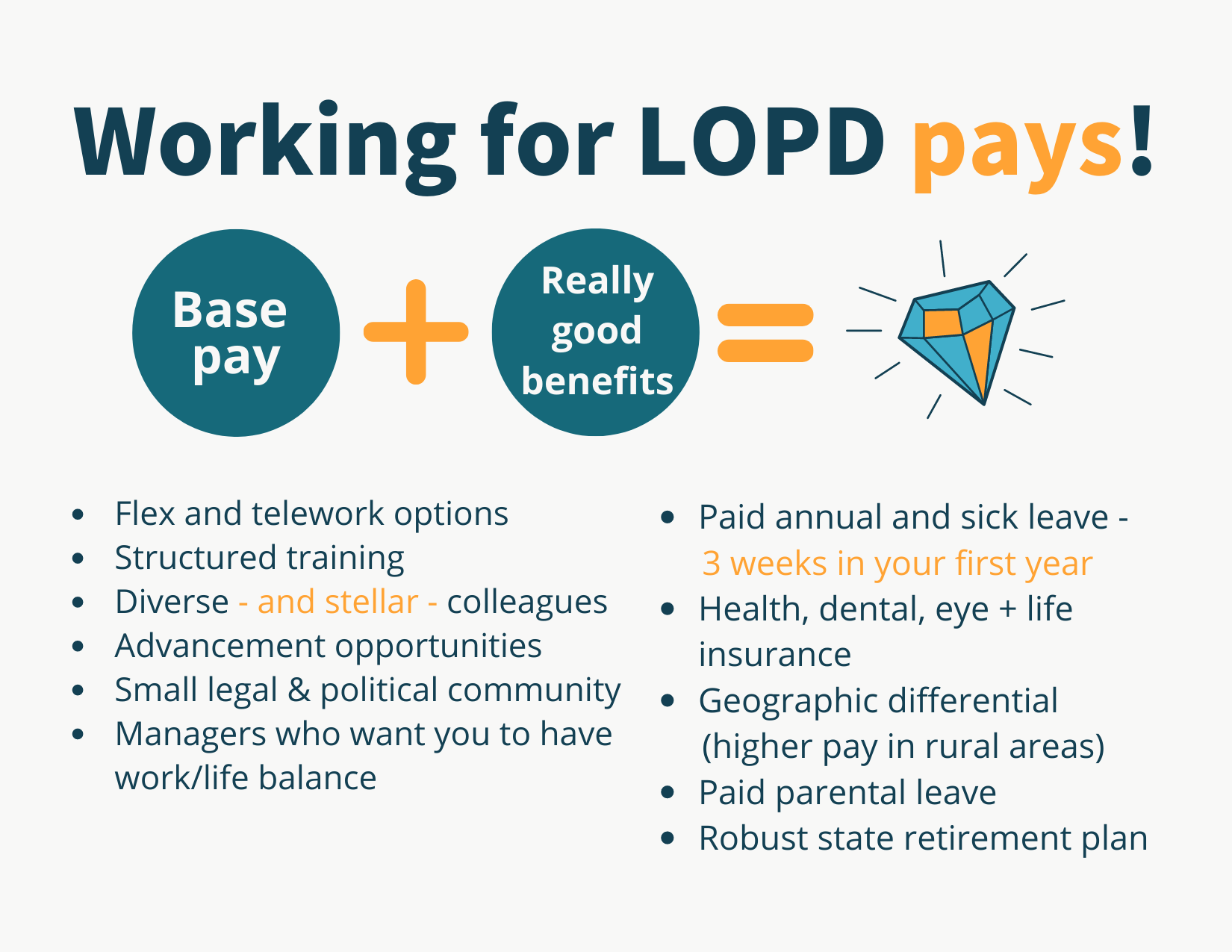 The greatest part about being an LOPD limited practitioner was the opportunity to get real experience allowing me to seamlessly transition into being an attorney. … I was eased into the task of preparing dockets, analyzing cases, strategizing with clients, and figuring the ins and outs of dynamic courtrooms. The real on the job training was invaluable and led me to feel much more competent and effective once I began in earnest.
Being an LP gave me the time to transition from law school to lawyer. As a public defender, you are constantly learning, whether through trial and error or mentorship, and to have that transition in the beginning was a gift. The new attorney training helped to calm some of the jitters through teaching us the basics of what we need to know, such as defending DWIs, Habitual Offender Enhancements, and probation violations. LOPD encourages us to make sure we are taking care of ourselves and being well because it is vital in this work.
I joined as a temp in 2020 and came on full-time as a Senior Secretary in 2021 in our Santa Fe office. Since then, I have learned the value of team work and have become more outgoing and comfortable speaking in public. I have gained more confidence working with other people and have learned a lot of new things. I like working at the LOPD because we help people by making a positive impact in their lives. I find it rewarding that we make a difference by providing clients with expert legal help and social services, like housing and treatment.
Learn about our benefits
As a state agency, LOPD offers extensive benefits and support for employees, including medical, pharmacy, dental, vision, short & long-term disability, and life insurance. We also offer a powerhouse of a retirement fund, referred to as PERA. Employees at LOPD also get access to flexible spending accounts, COBRA as needed, and free short-term counseling, called the EAP.
The following links take you right to the source of these benefits so you can explore them  yourself:
HEALTH INSURANCE
EYE COVERAGE
PRESCRIPTION PLAN
RETIREMENT
OTHER BENEFITS AND INFO
DENTAL INSURANCE
COUNSELING
The LOPD believes that having a diverse and inclusive workforce is invaluable. We are committed to recruiting, training, promoting and supporting all employees regardless of race, ethnicity, national origin, gender identity, sexual orientation, age, disability or religion so we can provide the highest quality representation for our clients. This commitment to appreciate our similarities and find strength in our differences allows us to achieve our mission of advocating for the constitutional rights and inherent dignity of our clients.
We don't get out of law school knowing the art of how to handle voir dire or plea hearings, etc., but you learn that quickly here because you get into the courtroom almost immediately. This hands on experience is enhanced by our in-house trainings, through mentoring  and through your direct access to the process. This is not a paper-pushing job.  While part of my job is showcasing what is great about LOPD, I am also responsible for trainings for our new attorneys where you get work with attorneys statewide. This is where LOPD really shines and is striving for excellence.
Please reach out to me with questions or interest in anything from an informal walk-through to a formal internship.